InFocus Mondopad: The all-in-one touchscreen collaboration system for video conferencing, whiteboarding, data sharing, and more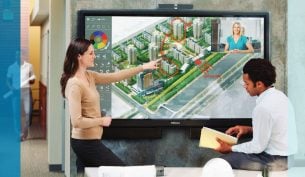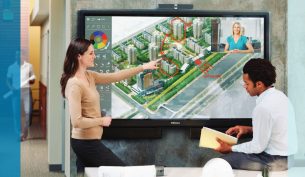 Work Better Together
In-room and remote visual collaboration made easy
InFocus Mondopad elegantly blends video calling, whiteboarding and more into one giant touchscreen PC for efficient face-to-face collaboration with people in any location. Bridge communication gaps, strengthen teams,capture & share information, train more effectively, and save time and money. You'll never want to meet without it.

Key Features
Big, bright touch display everyone in the room can see
Choose sharp 4K or 1080p HD resolution
Native HD video calling and data sharing that's crystal clear
Interactive whiteboard and on-screen annotation
BYOD-friendly to connect & share with any device
Built on a fast & flexible i7-based Windows PC
Wireless keyboard and mouse included
For a limited time, ConX Video Meetingsubscription now included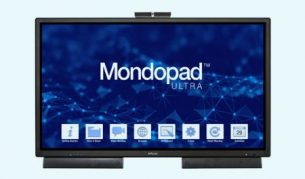 Mondopad Ultra for Performance & Precision
Our premium Mondopad Ultra series offers high performance collaboration tools to meet the exacting needs of business and enterprise. Mondopad Ultra features vivid 4K resolution for an incredibly sharp picture, and our most powerful processor for high demand applications and information security. Connect global enterprise infrastructures and employees, and make every meeting or presentation more effective and engaging with Mondopad Ultra.
4K resolution offers more detail & more depth for amazing life-like images
Built on a powerful Intel Core i7-6700T processor and Q170 chipset with Intel vPro™ technology
256 GB solid state hard drive
Choose a 70" (INF7023) or 85" (INF8521) model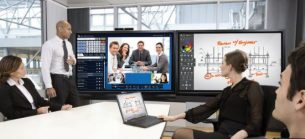 See faces and content side by side with dual-stream video conferencing capabilities. You can even split them onto a second touch display — one display shows participants' faces while the other shows content.
Video Connect to the World
Instantly bring people together from anywhere in the world to visually collaborate on the same content and do better work in less time. InFocus video calling service is included for the first year, so you can make and receive video calls right away–or add your own video conferencing client onto Mondopad as you would on any other PC. Bring groups of people together with InFocus' cloud-based ConX Video Meeting service. Users can connect from any device, anywhere. Subscriptions available ranging from 3 seats to 100 virtual meeting rooms, each with 50 seats–offering simple, effective video collaboration.
ConX Video Meeting now included
For a limited time, Mondopad now includes a subscription to ConX Video Meeting, for easy cloud-based video conferencing. Connect with anyone around the globe—on other SIP and H.323 endpoints, as well as mobile devices, PCs,or Macs—and transform the way your company communicates. Complimentary 3-seat, one year subscription makes video collaboration simpler and more effective than ever before.
"The way InFocus enables our agency to clearly connect with one another face to face, from our six different locations throughout the world, helps us to be more cohesive and builds more trusting teammate relationships, resulting in better work.
-Gabe Winslow, Partner, Sq1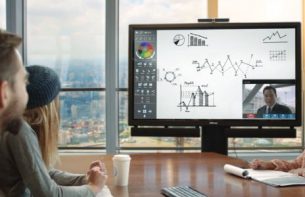 Interactive Whiteboard
Stop taking pictures of your stained, old-fashioned whiteboard and step up to the digital Mondopad. Brainstorm, capture, and share your ideas on an interactive whiteboard without borders or barriers.
Capture, save, and email whiteboard notes directly from the Mondopad
Create a whiteboard on a canvas up to 100 display screens in size
Paste backgrounds and images onto a whiteboard and annotate on top
Write or draw with a complete collection of digital pens, shapes, lines, and colors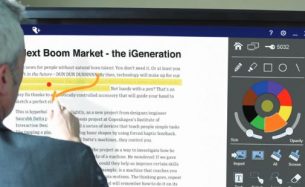 View, Annotate, and Share
Never lose an idea. Quickly and easily take notes on anything you're presenting and then save the changes.
Use the same whiteboard tools to mark-up whatever you're presenting:
– Documents, presentations, spreadsheets, images, etc.
– Web pages
– Videos
Save your notes as an image and email it directly from the Mondopad
Manage common or secure files accessed by email, office network, USB drives, and cloud-based services like Dropbox
"With the unique ability of the Mondopad to draw and annotate, our personnel in their respective classrooms can see anything the instructor is talking about."
– Mike Heimbecker, Fire Inspector, Addison Fire Protection District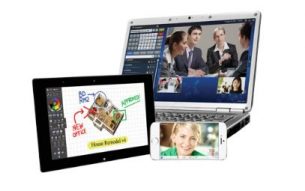 Bring Your Own Device
Participants can securely connect and share content with Mondopad from PCs, Macs, tablets or smartphones – making meetings more collaborative, productive and sustainable.
Cast your device's screen to the Mondopad
View up to four AirPlay or Chrome casts simultaneously
Control the Mondopad with your device from anywhere in the room—advance slides, browse the web, annotate
See what's being presented on the Mondopad from your device
People can also make video calls to your Mondopad from a PC, Mac, tablet or smartphone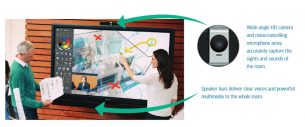 Accessories / Solutions
InFocus products work together so you can collaborate effectively in and out of the conference room.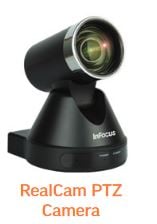 Video and Audio Solutions
Provide and capture the best views and sounds in the room for efficient and clear communication.
RealCam PTZ Camera (INA-PTZ-4): True HD 1080p resolution and pan/tilt/zoom with included remote control
Thunder Speakerphone (INA-TH150):
VoiceAware anti-echo & noise-reducing technology for any size meeting room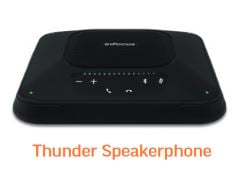 Video Conferencing Solutions
Collaborate with multiple participants and share faces and data on-demand.
ConX Video Meeting: Secure cloud-based video meeting rooms for large groups on nearly any device
(get a FREE trial at infocusconx.com)
121 Premium (IN121PRM-1Y, IN121PRM-2Y, IN121PRM-3Y): Add 4-way videoconferencing
and custom SIP address capabilities to your Mondopad. Upgrade from 121 Basic to 121 Premium with
IN121PRM-UPG. Have SIP addresses with your domain name with IN121PRM-DOM.
121 Basic (IN121-1Y, IN121-2Y, IN121-3Y): Standard 2-way video call dial tone and SIP address
(the first year is included at no additional cost with your Mondopad purchase)
ConX Phone (MVP100): Easy-to-use desk video phone for on-demand video communication from remote locations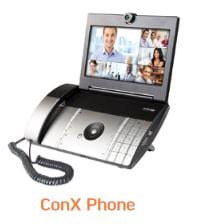 Display & PC Solutions
Enhance the usability and power of Mondopad with these solutions.
JTouch (INF5701p, INF6502WBp, INF7001ap, INF7002WB, INF8501):
Extend your Mondopad's
desktop to a second touch display and show two apps at once
Upgraded PC Configuration (INA-6700TMP-UPG):
Upgrade the memory of th 65-, 70-, or 85-inch
Mondopad from 8GB to 16GB, and upgrade the hard drive from 256GB to 512GB
For more information email avsales@govdirect.com or call 727.754.2697.
August 24, 2017