Panasonic Releases the NEW Toughbook CF-33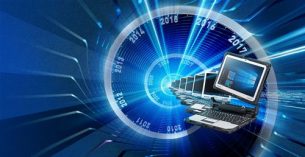 Panasonic just added a new addition to the Toughbook family with the revolutionary CF-33. Inspired by the increasing demands of mobile professionals, the Toughbook 33 delivers rugged mobility in a highly customizable package that also includes a generation of backward compatibility. The nature of these jobs requires a laptop that's thick and rugged, and in today's world of versatile hybrid notebooks, consumer-facing devices simply don't have this advantage. Boasting a magnesium alloy chassis and a fully rugged design, the Toughbook 33 is for those whose jobs require a laptop meeting military-grade MIL-STD-810G standards.
This is a laptop that, according to Panasonic's claims, can withstand drops, shocks, vibration, rain, dust, high temperatures, low temperatures, humidity and, of course, an 'explosive atmosphere'.
The Panasonic Toughbook 33 gets with the times in more ways than one, too. Not only are the processors up-to-date, but there's a choice between 256GB and 512GB of storage space with RAM configurations of 8GB and 16GB available.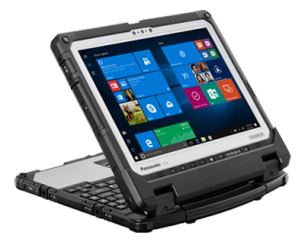 The Toughbook 33 has a 12-inch screen that's equipped with a QHD (2,160 x 1,440) resolution. It's a capacitive multi-touch screen which can be used while wearing gloves, and it also supports an IP55-rated digitizer pen. In the flesh, the Toughbook 33's screen is among its standout features. The 3:2 aspect ratio might seem like a step backwards from the 16:9 standard followed by previous Toughbooks, but for its target audience, this format better accommodates legacy applications that haven't been updated. Panasonic choose this to make the tablet easier to handle, and for better viewing of business applications such as Computer Aided Dispatch (CAD) for law enforcement officers. Other benefits of a 3:2 over a widescreen include less vertical scrolling, more closely resembles the size and feel of 8.5 x 11 paper, and less interference around airbag zones for better vehicle‐occupant safety.
This laptop's display is rated at a brightness of 1,200 nits, which is a lot more obvious when you're looking at it head-on than it is in photos. As a result, you don't have to worry about sunlight getting in the way of, say, accessing your Computer Aided Dispatch and completing tasks quickly and efficiently.
With such a bright, vivid screen, and powerful processors, it's safe to say we were concerned about the battery life on the Panasonic Toughbook 33. So it was a relief to hear that – if nothing else – the battery is a swappable component of Panasonic's latest professional-grade workhorse.
Not only can you store two batteries at a time in the Toughbook, but an upgrade makes it possible for the battery life to last 20 hours, as opposed to the default battery's 10 hours of longevity. In our hands-on demo, we got to take a look at the charging dock, which can apparently handle four battery units at a time.
Luckily, switching the batteries out is relatively painless. By simply sliding off a panel located on the back of the tablet, the interchangeable batteries of the Toughbook can be removed and replaced in a matter of seconds.
For more information on the CF-33 visit Buy.GovDirect.com or call 888-TOUGH-31.