Failure Rates: Panasonic vs. The Competition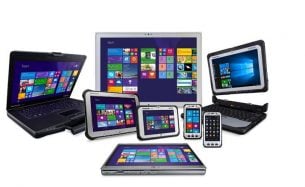 The Tough Advantage
Panasonic has a long track record of investing heavily in research and development of high quality materials, innovative technologies and highly sophisticated, vertically integrated manufacturing facilities. So it should be no surprise that Panasonic Toughbook mobile computers and Toughpad tablets rarely fail. In fact, Panasonic mobile computers and tablets are nearly ten times more reliable than the standard business laptops and tablets. According to PC Magazine, the May 2011 issue, reported an industry average failure rate of 15%. Panasonic's service records as of June 2011 show an average annual failure rate of 2.4% for the Toughbook mobile computer. In addition, when specifically comparing rugged computers Panasonic's failure rates are more than 80% lower than other rugged PCs in the first two years. Panasonic users are also 60% more likely to have a rugged computer for five years, increasing the ROI dramatically.
Core Manufacturer
The low failure rate and proven reliability of Panasonic computers and tablets begins at the factory. Panasonic being the only major manufacturer that designs, builds and tests its laptops and most components in its own factory; allowing Panasonic better quality control and consistency. Low failure rates translates to less downtime, fewer repairs and an overall lower total cost of ownership. Panasonic Toughbooks and Toughpads on average have a 15% lower total cost of ownership percentage. Over the life of a typical mobile computer, that adds up to over hundreds of dollars in savings and a better end user experience. If for some reason on the rare occasion when a Toughbook or Toughpad does fail, Panasonic's award-winning technical support and the vast warranty services, including priority overnight exchange of user-replaceable parts.
Commitment to Research and Development
Panasonic continues to improve current products and develop the next generation, cutting-edge products through extensive research and development that enables the customer to succeed in the world's most demanding environments.
Over 2,500 engineers across six factories all focused on innovation
Among the top 20 investors in research and development
Hundreds of U.S. technology and process patents have been secured
Greater Customer Satisfaction, More Deployments
95 of years of customer service, 20 years of computer expertise, Panasonic achieves more rugged PC deployments at larger organizations than any other brand on the market. Based on satisfaction with repair rates, 88% of Panasonic Toughbook customers are highly likely to make a repeat purchase.
Solutions for Every Industry
Empowering professionals to do their best work customers in government, healthcare, production, education and commercial enterprises both large and small, depend on Panasonic to reach their full potential, achieve a competitive advantage and improve outcomes. Panasonic offers a complete suite of products and solutions to meet all customers' business needs. All Toughpad and Toughbook mobile computers are available as TAA –compliant and approved for government deployment.
Minimized Downtime
World-class customer service and support ensures repair time will be minimal. Three-year limited warranty on notebook PCs, 24/7 technical support hotline, receive user-replaceable parts and repairs for all, industry benchmark turnaround times on repairs, 45-second average hold time and all U.S. based call centers.
Still not convinced a Toughbook or Toughpad is for you? Let's get one in your hands today! Call 888-TOUGHT-31 or visit Buy.GovDirect.com for more information or a free demo.
January 17, 2017